Developed for goldsmiths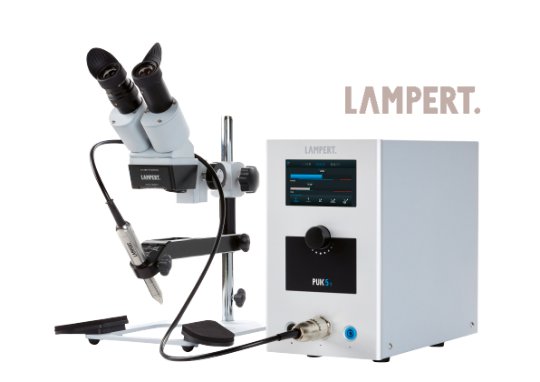 The new PUK 5.1
The PUK is a precision welding unit based on the TIG welding technique.
By creating an arc, a welding spot with a diameter of approx. 0.2 - 3.7 mm is generated.
A tungsten electrode is clamped in the handpiece and the arc is ignited from its tip.
Tungsten has the highest melting point of all metals (3422°C), while the electrode itself does not melt.
Welding on accessories
Fixation work
Creating seams
Applying metal
Welding eyelets
Welding of diverse precious metals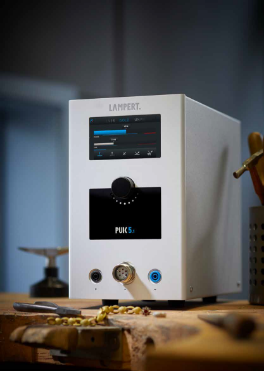 Working with the PUK 5.1
Workpieces are melted at certain points and thus connected with each other.
Additive welding material ideally always has the same melting temperature as the workpiece itself, whereas during soldering the solder always has a lower melting temperature than the workpiece. Thus the risks of solder continuing to flow are avoided.
No annealing of the material - even mechanisms and thin sheets can therefore be worked on without compromising strength.
No differences in colour or hardness.
Advantages of the PUK technology

Intuitive operation
Intelligent presettings - only two operating steps are required:
1. Selection of metal group and work situation
2. Welding

Special electrodes free from toxic components
Optimised ignition and welding properties

Precision handpiece for precision welding
Solid material quality through stainless steel and Teflon offer optimal conditions for precision in production and reliability in application.

Practical and fast: the plug-in nozzle and clamping nut allow fast and tool-free changing of the electrodes.

Easy handling: well thought-out details facilitate the handling of the components.
Ergonomic working: the individual adjustment of the working position as well as comfortable hand supports allow fatigue-free working.

High quality workmanship in every detail
Durable and quiet due to dustproof housing without fan

High quality connectors
Professional screw and plug-in connections ensure durability and guarantee lasting safety in daily use.
SALE